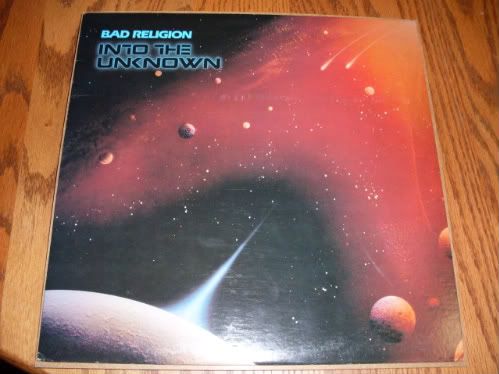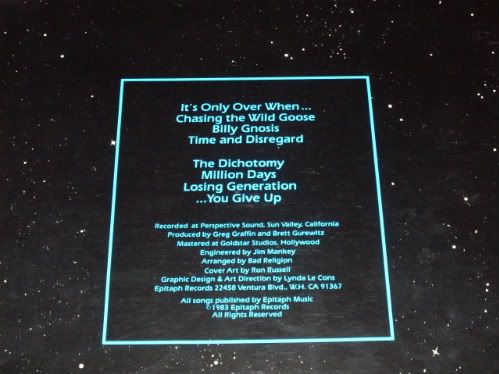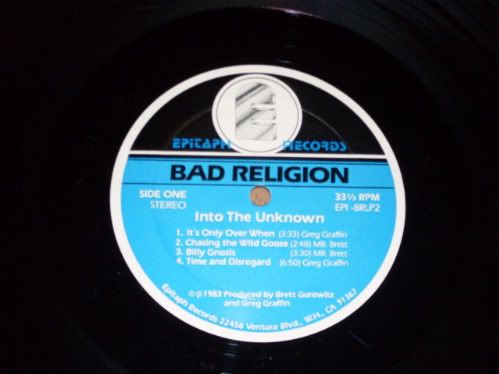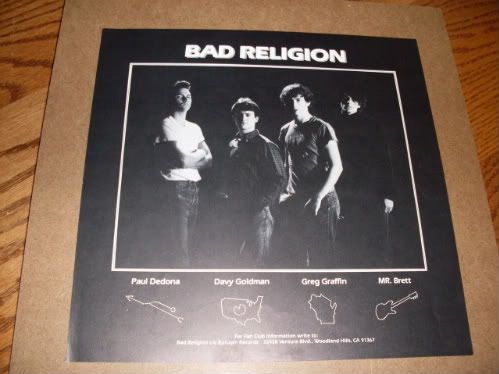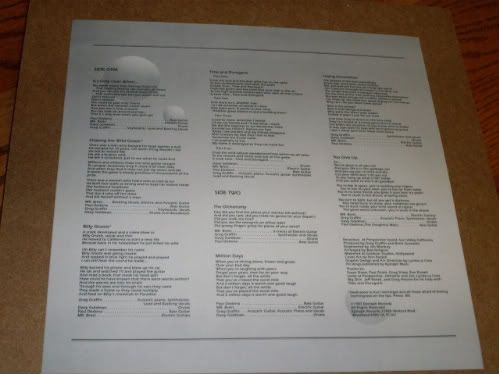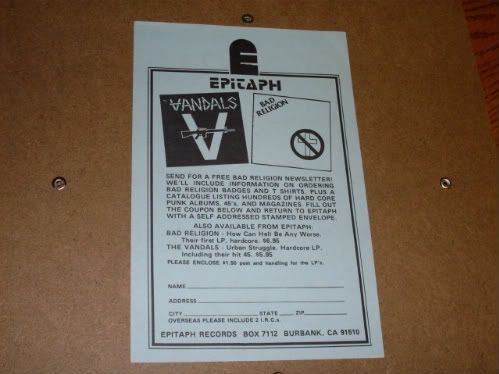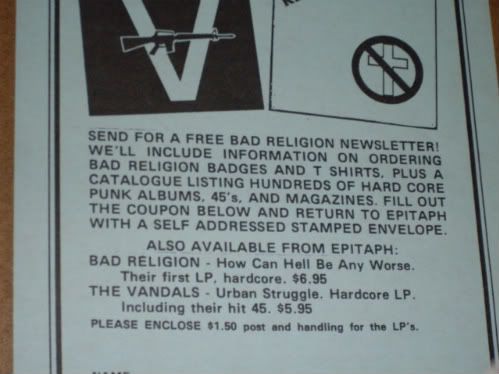 Following the moderate success of "How Could Hell Be Any Worse?," some strange things happened for Bad Religion. The biggest of which is Greg Graffin moved to the midwest to go to college, and therefore was far enough away from the L.A. punk scene, that he might as well have been on Mars.
When Brett Gurewitz contacted Greg about recording an album on his break, he thought the idea sounded good. It is important at this point to mention something about the record label on which this album was to be released, Epitaph Records. Epitaph Records was owned by Brett Gurewitz, and was only a record label in name. All their records were self-released (as were all punk records in those days) but you still had to say that your record was on some kind of label. The brainstorming for the name of this label was done by Greg Graffin and Brett Gurewitz while listening to King Crimson (yes, the prog rock band, King Crimson.) They happened to be listening to the album "In The Court of the Crimson King," and the lyric "confusion shall be your epitaph" came through the speakers, and Epitaph Records was born.
Keeping that in mind, it maybe isn't so surprising that Bad Religion decided to follow up a hardcore album and a hardcore E.P. with an album of prog rock, rich in keyboards and synthesizers, epic 7 minute songs, and artwork that can only be described as hillariously un-punk.
There are a lot of stories surrounding this release. Supposedly on the first day of recording, bass player Jay Bentley and drummer Pete Finestone were so horrified by the songs that they quit on the spot (thus explaining how the bass player and drummer from The Replacements got involved.)
10,000 copies were pressed and shipped after recording was finished, and public reception was so bad, that every single one got shipped back to Epitaph. In fact, Gurewitz has been known to joke that he "shipped 10,000 and got 11,000 returns." Some copies did get out to ravenous fans, however. Gurewitz had the records stored in a warehouse, and his girlfriend at the time sold several thousand behind his back. The remaining copies eventually ended up in Jay Bentley's basement, where most were destroyed by a flood, or at least that's the story he sticks by today.
So, is it every bit as bad as its reputation? If you are prepared for it, and are open-minded enough to listen to a punk band play prog rock, no it most certainly is not. In fact, I personally think it is really damn good. First off, the lyrics are fantastic. In particular, the song "Losing Generation" is a great statement about environmentalism (an issue Graffin has been passionate about his whole life) and the use and abuse of animals. ("Who is the animal? Who is the dangerous beast? Why were the animals made? I know it wasn't just for me.")
It is incredibly hard to find a real copy of the original vinyl (the only pressing), but they're out there if you are willing to pay the price. I personally came across a fantastic, clean copy with both original inserts (pictured above) on eBay and only had to pay about $150. Any hardcore fan of Bad Religion should consider looking into getting one.
Into The Unknown - 10 out of 10
Here's some sample tracks so that you can hear for yourself and become a believer.
The opener,
"It's Only Over When. . ."
A personal favorite of mine,
"Billy Gnosis"
And, finally,
"Losing Generation"
Current Mood:

amused

Current Music:

Bad Religion - Billy Gnosis